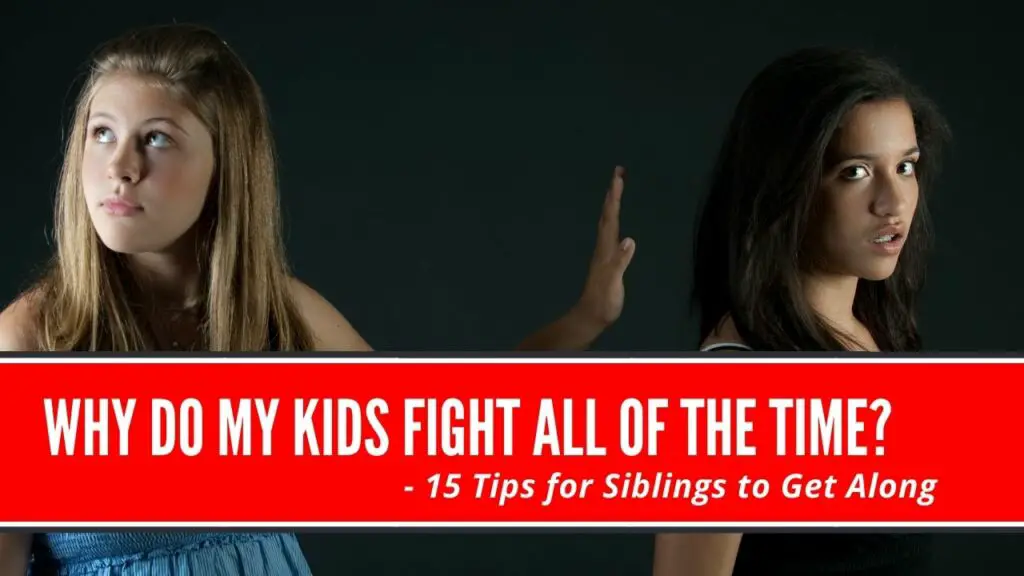 Is your house an eternal battleground? Is the constant yelling, screaming, and fighting of your kids getting you down? Are you constantly wondering about the eternal question- why do my kids fight all of the time?  
If yes, then this writeup is meant for you. You are experiencing sibling rivalry. In this writeup, we will understand siblings fighting and then go on to list out a few awesome sibling rivalry solutions. Stay hooked! 
Why do brothers and sisters fight so much? 
Before we venture into solutions, let us first understand what is sibling rivalry psychology and why do siblings fight so much.  
A single child can often be seen as demanding a younger brother or sister from their parents. This is because they often lack the company and are jealous to see siblings of their friends. But the scenario changes the moment the sibling comes into the picture. 
This often leaves parents like us completely confused and frustrated. What we parents need to understand is that toddlers fighting and abuse is not due to one toy being better than the other or a cake piece larger than the other.  
The main underlying causes of sibling fighting is the difference in their developmental stages and a natural competition to gain your maximum attention. This leads to a natural feeling of jealousy and a feeling of resentment towards the other siblings. Initially, this starts as a small rebuke and resentment but as time passes, this grows too intense jealousy and even hatred. 
From simple verbal fighting, it grows to intense sibling physical fighting. Understandably, it takes both a physical and mental toll on you. Most parents want to know how to stop kids from fighting.  
Can sibling rivalry be stopped? 
All parents want their children to coexist with no fighting. Unfortunately, given the nature of sibling rivalry, it cannot be eliminated completely. It is normal for siblings to fight. But, with your tact, patience, and knowledge, you can minimize the feelings of jealousy and rivalry between the siblings help them lie in harmony.  
Tips to help siblings to get along:
Now that we have decided that sibling fighting is inevitable, the next question is how to deal with it. Should you let siblings fight or find out sibling fighting solutions.  
We share some surefire tips on how to encourage siblings to get along and bring some peace and harmony in your house. Read on! 
Keep yourself calm and collected 
If your children are anywhere like mine, their fighting and accusations are likely to leave you angry, frustrated, and completely distressed. Each of the kids would end up accusing you of being unfair.  
Before you go on to resolve their dispute, you need to get fortified. Instead of pulling your hair over why do brothers and sisters fight so much, you need to accept that they would and it's a part and parcel of your kids' growth.  
If you remain calm and quiet, you would be able to pay attention to what they are uttering during the fight. It would help you gain insight into the root of the problem and come up with better solutions.  
Build a cooperative environment 
We already know jealousy and resentment is the main cause of sibling rivalry. Hence, you can minimize a whole lot of sibling fighting by merely ensuring a co-operative environment and killing the budding jealousy between the siblings in the bud. For it: 
One of the biggest mistakes we parents do is compare our children. It is one of the biggest causes of sibling rivalry. The comparison hits on the self-esteem and self-worth of the kids and gives rise to a negative competitive feeling. Instead of comparing, you must always appreciate the individuality of any child and works towards fostering his/her self-esteem and self-worth.  
The home behavior and the behavior of the parents always plays a critical role in how children behave. Hence, you must be ultra-conscious in the way you behave in front of your children. Your calm attitude in resolving disputes would unconsciously teach the kids to behave similarly.  
You must always strive to create a cooperating and compromising environment in the house. If children see you giving in and behaving politely, aggression and fight would drain out of them automatically. They would consciously and unconsciously try to follow in your footsteps. 
Appreciate and celebrate individuality 
We have already mentioned this tip but it cannot be stressed enough. It is essential that you accept your child with their individuality and never compare them, especially amongst siblings. If you avoid pigeonholing and labeling, children are less likely to feel animosity towards each other.  
The knowledge that you love the kid for themselves will boost the self-confidence and self-esteem of the child. It would also cut away the unnecessary jealousy between siblings. For it, you need to spend some time exclusively with your child individually where you make the child feel special and loved.  
Treat kids fairly instead of equally 
Most of us parents believe in equal treatment. But that might not be fair for the kids. To encourage peace and harmony between kids, it is essential to treat them fairly which might not be equal. For instance, both the children might want a toy but it need not be the same toy. you should give each a toy that matches their interest, age-group, and individual needs.  
A private space is also important for each child. The space could be as simple as a drawer. Thus, even though you teach them the art of sharing, you also teach them about personal boundaries and space.  
Layout clear family rules  
All families follow a few rules though very few spells it out. However, verbalizing it in clear words lets children know what is acceptable and what is not. It gives them clear directions on how to behave and goes a long way in encouraging siblings to get along.  
To ensure that the children know the rules and are willing to follow them, involve them in the rulemaking process. The involvement would also make the children remember the rules better. 
For better enforcement, past copy of rules in various focal points around the house to serve as reminders. If you find them breaking rules, remember to remind them but in a friendly manner about rules being broken. If indiscipline still persists, then follow through with the agreed consequence. 
Try to incorporate routine 
Routines are an excellent way to reduce sibling fighting over everyday things. For instance, if the sitting place of each child is pre-decided, the chores assigned to each child, and TV time laid out for each child, then it's easier to cut down on the disagreements and resentments between the kids.  
Acknowledge and praise good behavior 
As parents, we all want our children to grow into good individuals. In its pursuit, we are quick to point out our children's wrongs and drawbacks but we rarely remember to praise their good behavior. This makes good behavior worthless in the eyes of the child.  
Hence, it is essential that you highlight your children's good behavior and appreciate and praise them. This will not only motivate the child to repeatedly showcase the good behavior but it will also motivate his/her sibling to also showcase good behavior to earn your praise and attention.  
Coach your child  
Like all good habits, we also need to coach our child in reducing sibling rivalry. For it, you need to hone their problem-solving skills, and train them in handling disagreements, feelings of anger and resentment, and even in the art of negotiating and playing fair. Instead of trying to resolve their disputes, it is better to guide them such that they come up with solutions, preferably blame-free.  
Initially, they would need plenty of handholding but soon, they would be able to resolve even the most serious of disagreements amongst themselves. This nurturing would also help them in good stead throughout their lives.  
Keep children well-fed and well-rested  
Lack of sleep and food sets any child in an irritable mood. You will be surprised at the speed with which sibling fights will go down merely by ensuring that the children are well-fed and well-rested with adequate sleep. Just by this step, you will have calm and rational children who are less likely to get into a squabble.  
Tips to help deal with sibling fighting  
Till now, we have been discussing tips on how to avoid situations that lead to sibling fighting. But now, we would share some valuable guidance on how to deal with siblings fighting over toys, clothes, or any other such issues.  
Sometimes the fight can escalate to the physical level and the entire situation can become a little dangerous. When involved in a fight, follow the below-mentioned tips.  
Do not interfere for as long as possible 
When children are into fighting, it's best to stay out and let them resolve the differences themselves. But by staying out, you should not remain absent-minded. You must be alert to what they are saying to each other and are they getting into resolving the dispute. If the fight is to gain your attention, it's best to move out of the room. The fighting would stop inevitably.  
Try to diffuse the situation 
If the sibling fighting has escalated to a physical fight, you can no longer be a silent onlooker. But like all parents, you must not instinctively jump in the middle of the fight and try to stop them, scold them, or even physically slap them.  
The best move would be to remain calm and strive for the children to become calm. A statement like, 'It seems we all are frustrated. Let's take a moment and calm down,' would help you stop the fight and cool down the situation.  
It is your energy and mood that would play a critical role here. Your calmness, unflappable, and impartial nature, and serene smile would help everybody to settle down. 
Check for the safety  
The next step is to check out the physical safety of each child and decide if any first aid is needed. In case any icepack or band-aid is needed, procure them and attend to the victim (s) without taking any sides or laying blames on any corner. You will be amazed at how calmly your children would respond to bi-partisan medical treatment.  
Post first aid, try making the kids drink water, and eat some snacks. This would help de-escalate the situation and calm the kids further into reasonable beings.  
Don't take sides  
Once the children have calmed down, we move to the conflict resolution phase. In this phase, it is critical that you do not take sides and let each party vent out his anger and frustrations. But this stage must be initiated only when everybody has calmed out. Else, it won't be too effective.  
Strive for a win-win situation 
Sibling rivalry can be reduced only with impartiality from your side. Hence, you need to sportscast solution. For it, the children must air their grievances without placing judgment or blame on the other party. Initially, your children would need your help and guidance to be able to do it.  
Once both parties have aired their frustrations, encourage them to use their problem-solving skills. Help them arrive at a solution where each party is gaining something and losing something. Remember, if kids get into a blame-game, it would always be impossible to arrive at a solution. Hence, your efforts must always be to get rid of blaming from all sides.  
Make punishments private  
Sometimes sibling fighting is such that one or both the children need to be punished. In that scenario, it's best to avoid a public scene. You should talk to each child privately and even punish them in private if required. Public punishment would shame the child and create greater animosity between the siblings.  The idea is to teach them a lesson and not make any kind of announcement.  
The move would establish your authority and help them follow your instructions better.  
Final Words  
Siblings will fight, no matter what. But the above tips would go a long way in reducing the fighting and jealousy between them. Putting the tips into action would not be an easy task and would require continuous and proactive action from your side. But the results would be worthwhile in the end and life would definitely take a more peaceful turn.