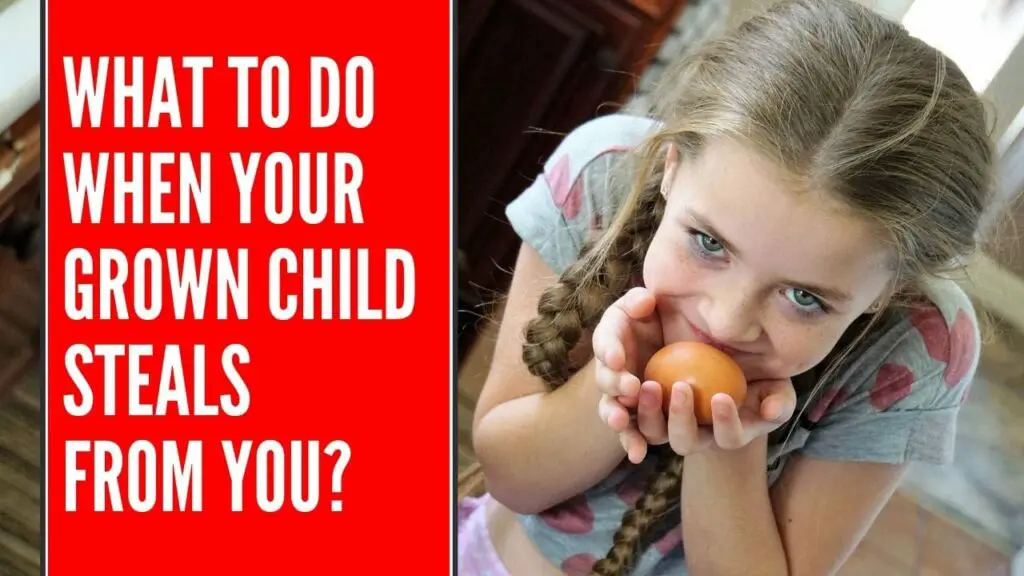 Kids steal!! Kids of all ages steal because they become impulsive at times. What to do when your grown child steals from you?
Of course, it is embarrassing, shocking, and not acceptable. It is one of their development stages and that does not mean they are going to grow up criminals and end up in jail. It happens, it is a passing stage and will go away if you practice positive discipline.
Different reasons why kids steal:
To impress their friends
Poor impulsive nature
When your kid asks for something to buy and you cannot afford it
Because it was a revenge
When your teenage kids are not able to legally buy it i.e. cigarettes
When they are embarrassed to buy it publicly like condoms, sex toys, etc.
Just for fun
When your kid wants something to buy you are not allowing him/her to buy it
Loves taking risks
Does your teenage kid understand that stealing and lying are wrong?
If your kid is stealing and lying a lot lately, it is a matter of concern. When your child is caught stealing you might be thinking, "why is my child getting into such a dirty habit? After all we have given him everything he wants". Many parents question their parenting abilities wondering where they have gone wrong.
There are the following factors whereas a parent you can figure out that your child is stealing and that is how from then on you take further steps of improvement:
When you find out that a sum of money is missing from your wallet/purse and you found out through some pieces of evidence, know the reason why your child had to steal. What was the purpose, the need to steal? It is best if you can ask your child upfront about it and sort it out, ensuring that your kid will not do such things henceforth.
Another option is to let your child know that you have discovered that the thing/money is stolen and give them some time to come out clean.
As a parent, you must teach them what is right and wrong from a young age. Punishing your growing kid will only encourage them to do more, rather let them go for the first time with a warning that there will be strict actions taken.
You need to make them understand by setting various examples that it is not important to buy everything one intends to. You cannot have everything in life and if so, one has to work hard for it. Stealing is never an option.
Let your child know that you are upset and sad to witness such bad habits.
Let your child know that stealing is a legal offense, and a child too can develop a criminal record that can impact their employment opportunities in the future.
Let them know that you are disappointed with their behavior.
Make them understand the criminal consequences and they will be called a "Thief" whole life.
Insist on improving the behavior by instilling good practices. You can find suitable ways to return the stolen items ensuring not to repeat it.
What to do if you feel suspicious that your grown-up is stealing?
Do not overreact. When your teenage child steals it does not mean that he is headed to become a thief or will continue doing a crime. Children, especially teenagers one age is such that they do get carried away.
Often your teenage kid steals to become the center of attraction. They think that it is a very "Cool and daring" thing to do. Do not take this personally instead stay calm and tactfully handle the situation without stressing too much.
Never confront your grown-up in front of others. Hearing from the 3rd party and accusing him of some acute punishment is not the right thing to do. It is more discouraging for your child to know that his parents do not trust him.
Let your child know that stealing is unethical. Instill replacement behaviors for stealing, with an awareness of consequences.
Correcting your grown-up child's stealing habit
"My grown child steals from me" – Your teenage kid is no more a kid. Do not ask for an explanation when you catch your teenager stealing. Do not call your teenage kid thief, liar, or any other names. It can shake their self-confidence and eventually it will have side effects and will grow filling that label name.
If the teenage kid is stealing money from parents, know what the child is stealing. If he has stolen the money and spent it, make it clear that he must pay you back. If it is not possible to pay back the entire amount, they can pay back every month. Now that you have realized that he needs more money you can increase his allowance.
If your child is stealing from the family, or neighbor then make sure that he returns what he has stolen. Let your child apologize for the mistake and make sure there is no repetition of it.
Steer him from the temptations. When you have learned that he has temptations of a certain thing that encourage stealing and lying do not let him get close to it. For example, you can hide your wallet or keep it in the locked drawer/wardrobe.
To instill good behavior you need to build trust. You need to trust your child that he has improved. Praise him for leaving the habit and that is how you will help your grown-up kid.
Habits can be improved when they are forgiven. Hugging your kid can make him feel that you are there to support in helping them improve.
Spending more time with your grown-up can also eliminate the problem. Deepening your attachment with your child can let you know the reasons behind this ugly habit and how spending quality time can help him come out quickly.
Praise his honesty when he admits to stealing. Tell him that you appreciate the gesture and expect this honesty from him.
FAQs
What to do when your grownup child is stealing from you?
When your child is a little older, you need to teach him not to take things without asking. It is always good to instill manners, like taking permission, asking about using some stuff, etc. Do not emphasize the word stealing instead tell him that taking things without asking is not right.
What to do when your grownup makes a bad decision?
A growing kid who makes a bad decision like a son buying Nike shoes instead of paying his bills should learn the value of money. There are other life crises such as accidents, layoffs, health problems that are crucial to deal with than just spending money haphazardly.
What should you do when your child uses a credit card?
Often the card is used to buy something or for gaming. Once the money has been spent can't be retrieved. You want your child to improve, tell him to pay back by compensating it with house-hold chores like cleaning the basement, garage, etc.
What to do when your grownup makes a bad decision?
A growing kid who makes a bad decision like a son buying Nike shoes instead of paying his bills should learn the value of money. There are other life crises such as accidents, layoffs, health problems that are crucial to deal with than just spending money haphazardly.
Can I call the police if my child is stealing from me?
The parents can call the police if the teenage kid is stealing from them. This way it will help your kid from committing the crime. Also, it can be a learning lesson for him about the consequences when they steal.
How to punish a child for stealing money?
With the growing kid, it is important that you do not lose your cool. You can discipline them by restricting their various activities like watching movies, not meeting friends, handling certain types of house-hold chores for a month, not giving them allowance at all, and so on. Remember punishing them may backfire and we want our kids to leave the stealing habit.
When should you worry about your grownup kid?
If the habit of stealing is repeatedly happening it is important to stop before it turns out to be big. You can let your child go with a few warnings but if it seems that it is not working know that it is a concerning matter. Your child might be affected emotionally because of an unstable home environment, divorces or you giving a lot of attention to his sibling. It is time to consider the below-mentioned options:
Consult a medical counselor or a therapist
Visit their school teacher to get more inputs and tips
There are several online communities of parents dealing with similar issues, you can join them to know how to handle the situation.
Following the above-mentioned suggestions and tips will allow you to know the reasons behind such issues and how you can deal with them. This way you can certainly help your kid from stealing temptations.