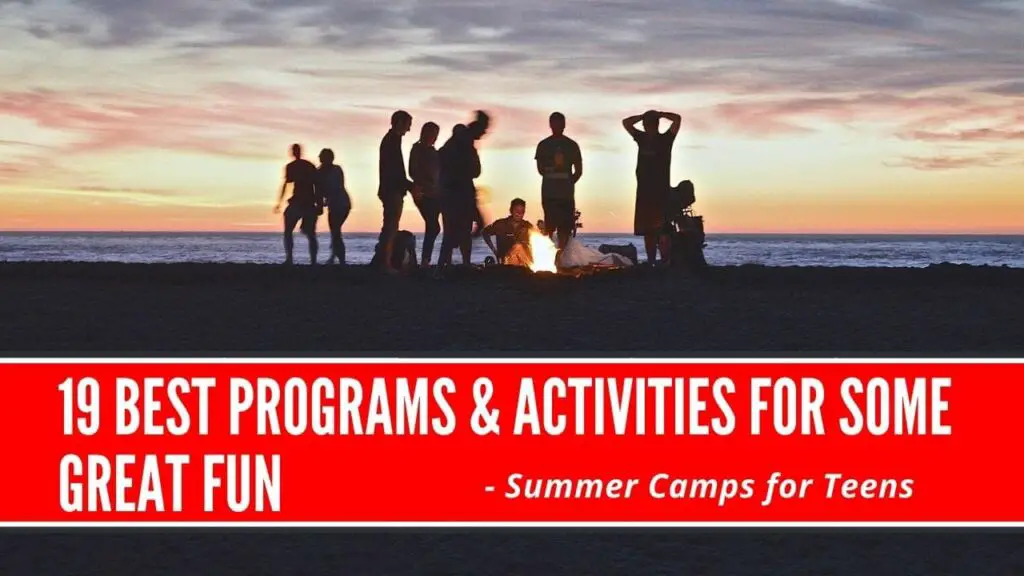 Are you someone who is worried about planning exciting summer camps for teens? This article might help you.
The Fast-paced today's life is full of teenagers, spending their lives staring at a glowing screen all the time and getting information in seconds through their fingertips. Today's teens are well versed in connecting with people on social media, but find it difficult to connect with nature and people in person.
For kids of any age, summer camps are the perfect way to add fun to their boring and regular lifestyle. Summer holidays are not meant only for doing pending homework or visiting grandparents. A  summer camp for teens helps them learn new skills, become great at socializing, and enhance their emotional intelligence.
Summer camp for teenage girls near me!. That's one of the options. Camp activities make your young ones face society with independence and confidence.
Why is summer camp great for teens?
Summer camps are the new community meets where teens come together to experience new adventures and learn lifelong lessons. Camping for teenagers for summer helps to develop new social skills and conflict resolutions in their life.
Summer camp for teens offers a new environment for teens to grow, develop, and explore the world apart from their monotonous high school activities. Summer programs allow teens to gain new experiences and improve knowledge in specialized areas such as archery, game design classes, robotic club, and entrepreneurship activities, which many schools do not provide.
The team focussed activities develop their socializing skills which impact them positively for life. Summer programs provide a wide range of opportunities for learning and self-discovery. It boosts teens' self-esteem and mentally prepares them to face real-life problems.
Backpacking trips, chatting around the campfires, cheering others while in games like a ropes course, and other activities build their interpersonal skills and confidence to take risks and challenges in the future.
Summer camp for 16-18-year-olds with some memorable life learning experiences gives teens a chance to step back from the never-ending academics, and help them to discover their best selves.
What do teens learn when they go for a summer camp?
As a parent, everyone needs their teens to grow up with a socially responsible and independent human being. Summer camp for teenagers helps to achieve that goal. Schools focus on academics and extracurricular activities that they fail to teach about perseverance and leadership. 
Summer camp activities improve their skills including responsibility, independence, and decision-making, and promote teamwork. Teens learn to work and cooperate with fellow campers, mingle with other teens from all backgrounds. To improve your teen's mental and physical health with some fitness, summer camps are a great way to expose them to unfamiliar, new tasks, and responsibilities.
Essential life skills that every summer camp teaches your energetic teenager:
Teenagers have their own way of connecting with Nature very easily, even better than how adults do. They have this free-spirit which they use to connect with nature, people, animals, etc., Their only focus would be to enjoy that moment, rather than contemplating the pros and cons. That is the main difference between a child and an Adult. A Child thinks only about the happy factors of the moment while an adult starts comparing the pros and cons of relishing the moment. 
Summer Camps and Outdoor Activities can actually teach many skills to children's and teenagers, without the need for any parental support. Children have the tendency to ask and learn no matter how big or small the question is about. Adults, we think a lot before asking any assistance to take decisions and contemplate the other's judgments even before that. Children are blessed with the ability to ask and learn directly without having to think about the embarrassment they face. With that, they try to learn things from the smallest movement, hardest rock, crystal clear waters, and whatnot. Summer camps are essentially proven to equip them with essential life skills and increase their academic performance and real-life adaptivity.
Enrolling your Kids in Summer camps can teach them mandatory life-skills like,
Patience
Satisfaction
Adapting to the adversity
Critical thinking
Enhanced Memory Power
Decision Making
Time Management and
Environment Management.
The above mentioned are only a gist of what a child will learn in a normal summer camp of a day or two. With Special Summer camps for Teens, they will naturally learn how to live in sync with nature and adapt to whatever situations they face in life. Their brain cells are refreshed with every green moment they surpass.
19 Best programs & activities for some great fun:
Teenagers are full of energy when they go camping. To keep them away from boredom, organizers plan fun camping activities ahead of time. Some fun games filled with laughter which helps teens to forget about their worries and makes them relax.
In camps, trainers make sure teens do simple morning jogging and exercises, to kick start the day with fresh air and breeze. Day time activities involve a lot of outdoor games, athletic fun that involve water and physical strength exercise. It involves high-energy adventures like rock climbing, trekking, help to get friendly with nature and improve mental state.
After energetic daytime activities, the evening can be quieter and more settled with light music and games. Mostly at night, organizers arrange campfires, allow teens to sit, and enjoy night breeze with light games, dance, and loud music.
Outdoor activities and adventures sports
Climbing wall
Organizers build 50-60 foot height walls with safety measures and appoint a trained physical trainer to help teens to climb the wall without fear. Campers start with the fundamentals of trust and progress to succeed in achieving achievement. This activity tests their climbing ability and nerve, frees them from height fear, and gives high mental strength.
Mountain cycling
This activity allows campers to explore the backwoods, offering scenic beauty of nature with rustic country paths. Organizers provide plenty of high-quality bikes, teaching from basic riding techniques, and safety to maintenance and repair.
Sailing
This activity improves their skills in sailing and allows them to love the wind and water, get a chance to get on a lake, and feel relaxed. Boat rowing events promote teamwork and improve their relationship with fellow campers with all the cheering and shouting.
Swimming
Depending on the camper's interest, trainers help them to do swim workouts, early morning swims, or just dip in the water. This activity improves their swimming skills and teaches safety in the water.
Volleyball
Skilled and experienced instructors teach the basics of passing and volleying of the ball, spiking, and blocking of the game. This game improves the team spirit within fellow campers and has a relaxing evening.
Photography
With knowledgeable instructors, interested campers can learn the fundamentals of photography, photo manipulation, and processing techniques. Classes are taken for beginners to advanced levels in action, landscapes, portrait, and alternative methods.
Outdoor fun games
Down, Down, Down
Back to back Tag
Birthday line up
Play the dead fish
Hide to scare
These fun games make them feel relaxed and enjoy camping with full interset.
Indoor summer camp activities
Painting
Art classes provide a great opportunity for campers to learn painting techniques by exploring a variety of subject matter, creating designs from their imagination.
Pottery
Interested campers get opportunities to learn pottery from throw pots on the wheel. They can make their mugs, dishes, and figurines with the help of guides through the process.
Stained glass
Well-experienced staffs teach a few techniques involved in creating gorgeous glass art pieces, mirrors, kaleidoscopes, and more.
Indoor games
Chess
Table tennis
Tennis
Basketball
Badminton
Expert instructors at Pencil Voyages teach the interested teens to learn games and concepts from the basics and improve their concentration power.
Benefits of Camping for teens in Summer:
Summer is actually a good time, for the teens and kids to go out and suck in some Vitamin-D. With the gadgets pretty much manhandling their life, children and teens often forget to connect with the outdoor activities. Their Teenage gets filled with pleasant and daring adventurous memories that they can carry for a life-time, with every nature-camp they attend.
Of course, there can be no big teacher than Nature right. By making your children attend summer camps for 14 years old near you,
They will learn,
To be calm and composed in any critical situations,
Panic is the biggest reason, many adults face problems in life. Learning to keep the minds calm and composed in any critical situation, will help them in the long run, as they will know to keep their mind guarded all the time.
Manage time for every activity,
Time Management is such an important skill, as this will help to manage things in life. Teens from the age of 14-18 will be in an important phase of life. They will need to prepare themselves for their college and career. By taking a break and attending summer camps for 16-18 years old, their minds will be refreshed enough to focus on their academics.
Multitask with the available resources,
As children grow up, they find it hard managing with the available resources. Any number of additional resources seems not to be enough for them. By learning to live in harmony with nature, children will learn to multitask with whatever available resources they have. 
To be self guarded at all the life-threatening situations,
Safety for girls these days has become a questionable factor these days. By attending camps with nature, Girl children will learn to develop the self-confidence in themselves. Nature camps for teenage girls will enable themselves to be courageous and spontaneously act in life-threatening situations. At Pencil Voyages, we take the utmost safety when it comes to children camping. To teach them safety, while being in a safe environment has been our focus.
Conserve the environment,
Children will understand the importance of conserving the environment owing to the rapid global warming and other natural disasters by attending these best summer camps for teens.
To independently take decisions
Decision making is an important aspect of life that plenty of adults do not know. Enrolling Children in Nature Camps at a very young age will help them make abled decisions at the needed hours.
To follow minimalism in life.
Minimalism is the need of the hour. Children should learn how to manage with two clothes instead of four. Summer Camps will teach them the concept of Minimalism. They will learn the concept of saving for the future and act accordingly.
Pencil Voyages' Teenage Boot camps are specially planned in such a way that their emotional intelligence and Intelligence quotient is honed without giving them much pressure or guidance. Learning a few skills in life will help them in the longer run. With the times being very critical, it is important that we give our children the best of life lessons. They will know to keep themselves balanced at any trouble they face.
What is summer camp really like?
Summer camp for teens is one great option to spend their summer vacations in a useful way. All thanks to the internet age, finding a good summer camp is easy. choose teenage boot camps wisely and give your teen an experience they will treasure lifelong.  
Before enrolling for a Good Summer camp,
Make sure that the summer camp has enough qualified experts and friendly staff to look after your teens.
Choose a summer camp that provides a wide range of activities that your teen is interested in.
The camp should have proper accreditations for outdoor activities from the government.
The camp should have a great ambiance with good safety and security measures.
Before enrolling your teen, do research and talk to the camp staff and organizers, get feedback from other teen parents about their teen's experience at camp.
Are summer camps necessary for teens?
Summer camp for teens comes as a complete package of fun-filled activities that your teens are interested in. They enjoy participating in those games and activities, and in return, they develop sound knowledge in those events.
If you want to develop your kid's skill, socializing style, teamwork, mental and physical body, the best choice would be to enroll them in the best summer camp for teens.
Frequently Asked Questions:
Are the summer camps really safe for children below 15 years?
Every Summer camp organized in particular age groups has the respective caretakers with guarded safety measures. Your children are in completely safe hands unless they risk adventures on their own.
Will the camps come along with food?
Yes, based on the package you pick for your child, your child will be given food accordingly. There are fixed menus and items, prepared deliciously, and safely for children to consume in every camp.
Will the transport be arranged A to Z?
Yes, the transport will be completely taken care of by the organizers. The details will be conveyed before every camp.
How many bags can our children carry to a camp?
Summer camps and Nature camps are generally designed to make children learn the concept of minimalism and sustainability. Apart from the essentials, children are advised to carry minimum luggage possible.
What will you do in case of an emergency?
Our teams are highly equipped with first-aid kits and basic emergency trainings. At any emergency, they can completely handle the situation. In the case of additional support being needed, we also have the details of the nearest healthcare providers in our lists. You can always check with us in case of doubts.
Can children carry their gadgets along?
Summer camps are designed to divert children from their gadgets and embrace nature. We do not encourage bringing Mobile gadgets to the camps, as they might make the children forget the beauty around them. However, if you do insist, they can carry. We do not say No for Photographs and cameras though.