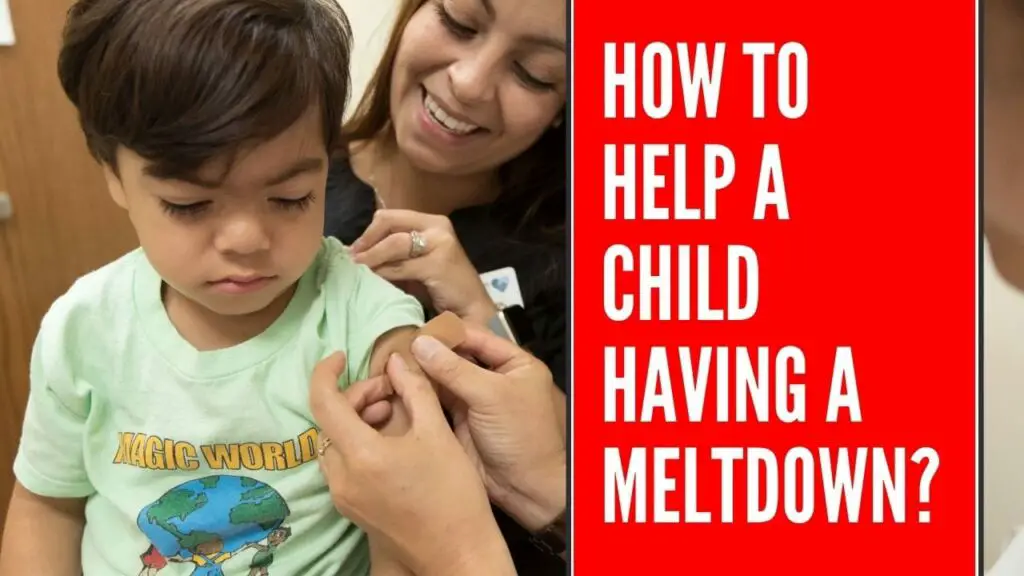 Loud crying, red face, and an outburst environment- yes, we are talking about child meltdown. We understand how confusing and helpless a parent feels when their child is going through a meltdown. This can happen anywhere, from public places to school or at home. Child meltdown can also be extended to prolonged fits, which can be under severe conditions.
Parents might find it a bit complicated to figure out how to help a child having a meltdown that is an outburst of emotion, strong enough to provoke your kid's intense reactions.
To get you started to the solution of this problem, the first thing you should know is that you are not alone. This is a pervasive problem that is experienced by children all around the world.
The methods that might effectively deal with your kid's natural anger or frustration don't usually work in a profoundly intense situation. This is why parents find it challenging to get through to their children's minds and help them cope up.
As a tensed parent, you must be thinking about what to do in situations like these? Well, parents should understand what their kid is experiencing. It is crucial to understand that an overwhelming surge of emotions can be a little too much to handle for a kid. They might not tell what is happening to them since it is all very new and unexpected for the kids as it is for you. Any child who has a meltdown is wholly lost and has no idea of what they are feeling. Hence, they act hyper and angry.
It is common for approximately 25%-85% of children between 2 and 4 years of age to have temper tantrums. Many people consider temper and tantrums as the same thing, but they are not. Nonetheless, they surely can use some common tricks to get recovered.
Understanding Meltdown
Parents, calm yourself first! Let's talk about a little science.
When your child has a meltdown, their brain reacts to stressors, acting as a prey in front of a predator. In neurological terms, they are experiencing "amygdala hijack." During such situations, children's brain tells them to either fight it, flight, or freeze and hence the meltdown.
How do Meltdowns happen?
The hijacked control of stress response gives birth to meltdown. It could be any emotion dominating your brain like Anxiety, stress, frustration, sadness, or depression, causing a meltdown. When we are overwhelmed by unpleasant feelings, which we cannot process or control, failure to escape from such emotions can lead to a meltdown.
As a parent, in order to find a solution to your question- how to help a child having a meltdown, the first step would be to calm yourself. Parents have the responsibility that their child is delicate, both mentally and physically.
One should understand that these sensory meltdowns are not controllable behavioral reactions for anyone, especially not little kids; they are physiological responses. It would be useless to expect rational and/ logical responses to such situations whilst your body perceives them (can be threatening).
There can be moments when you are frustrated by how your kids are acting and making all the wrong choices, like yelling at them, grounding them. We understand that this can be quite riled-up for you but remember that our goal is to help the child achieve more significant power than that behavior.
Fear is in the mind of the beholder; hence it is a different experience for everyone. This is not something you can have an argument on during a meltdown. Respect the fears of others and help them calm themselves.
What should parents do when their child is having a meltdown?
Here we have some tips to help you to deal with child meltdown.
Evaluate the needs of your child
To determine the answer to "Why is my child having a meltdown?" you need to figure out the "what is causing this trouble." Now you can start your quest by questioning yourself:
Is there something they desire/want?
Is this an attempt to grab your attention?
Is your child's anxiety-driven?
Is there any physical need?
The reason could be anything but finding WHAT is of great significance to resolve your misery.
Validation:
The heart rate is escalated when a child is having a meltdown, and therefor might seem irrational and/ inconsolable. This is because they are overwhelmed with stress hormones (also triggers headaches and stomachaches).
The situation can be quite challenging to keep your calm, but this is the moment when it is essential not to be dismissive. Remember, children are sensitive, and this reaction can lead to ratcheting up the screaming to make it transparent how upset your child is. Take a step back and try saying, "you love guitar, we know. Today's test won't fail you as a guitarist" instead of bursting out on them. Just a little difference in your sentence can change your kid's mood and help them feel better.
Take charge of Anxiety
This could be the reason for your child's meltdown could be Anxiety, and if it is, you have to take charge before it does.
Anxiety is common when a child is having a meltdown, but don't worry, it will abate. Parents have to make sure not to make it worse by arguing, criticizing, or repeatedly bringing it up. You have to take every precaution, as it cannot be sure of what can trigger your child's already flooding emotions.
Remember, you're not spoiling your child
Keep reminding yourself that following precautions and safe approaches is not "spoiling" your child. On the other hand, think of these methods for treating the child meltdown. The process might sometimes feel a bit longer, or you might feel reinforcing bad behavior, but don't let this lose your patience and come to a common ground, a different punitive approach, only if it feels necessary.
How to help a child calm down?
While having a meltdown, the child is expressing themselves physically, and the reason for this can be that they don't know any other way. Since they are only children, it is possible that kids don't have enough words to express what they want, need, or feeling. But teaching children to calm down would resolve this hitch.
Help them label feelings
Sometimes children are confused about what they are feeling and don't understand how to address it. As they grow up, kids discover new feelings and things about themselves; for instance, they realize that they don't like a specific tone of voice, which frustrates them. Kids might not understand what they are feeling is frustration.
Teach them about different feeling names and how they feel. An excellent way to educate them can be with feeling cards that define each feeling. You can also role-play to enlighten them, feeling actions and appropriate ways to handle them.
Addressing feeling openly
Kids are likely to lash out when they don't want to say it out loud what they are feeling, leaving you confused and helpless. Teach them to verbalize what they are feeling openly. It would help if you created a comfortable enough environment for them, so they don;t hesitate.

Once your child becomes comfortable speaking about their experiences and emotions, better will be your chances to help them.
Avoid Bad Media
Media can be a significant influence on how your child behaves. You cannot stop what is there on the internet and other platforms, but you can monitor or eliminate your child's use of such channels. Keep them from violent games, TV shows, or channels. Try exposing them to good shows that help them learn new skills or help their developing brains.
Teaching Anger Management
Another effective method for teaching children to calm down is by anger management. When your child has a meltdown, their best friend can be themselves as well. If they are feeling angry, it is essential that they understand how to handle it.
In order to calm themselves, taking deep breaths might be of great help. This method can calm both body and mind when they are experiencing a meltdown. An addition of counting numbers might also help in this technique. Going for a walk or repeating a motivational phrase can be of great aid too.
Final Words
We understand how dealing with child meltdown must be so confusing and distressing for you. As a good parent, we all want to be there for our little ones in all life stages, and this is only the beginning. Keep your morals up to be the good parent that you already are. You are the backbone of your child, and therefore, it is crucial that you understand how important it is to help in every way possible.
We hope that this blog has helped you become a pro when it comes to meltdowns. If you still feel that nothing is working out for you for a long time, it is suggested to take professional aid. It could be a possibility that your child requires, which only an expert can tell.