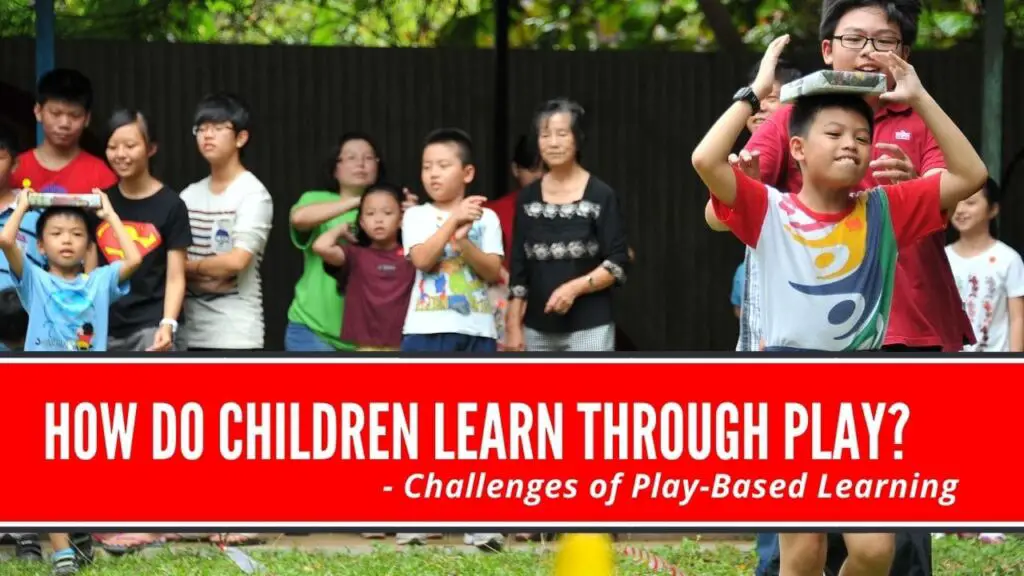 We all can agree that children love to play, irrespective of their age. Every child enjoys playing with their choice of game, activity, or sport, but they enjoy playing more than anything. This is how they explore and learn things about the world, generate curiosity, and enjoy. 
Play-based learning is prominent for the early development of your child. It promotes extensive social, emotional, cognitive, physical, and psychological development. It looks like a fun play for the kids and parents to take a relief sigh as it simultaneously induces learning. 
Children learn by doing activities and playing games, which helps them explore new things and encourage overall learning.
According to research, it is said that the first eight years are the most critical period for human development. Although learning is a process that goes on throughout life, learning is thriving at its top speed that will never be equaled during the early years of humans. 
Learning through play during preschool days is one of the most crucial times in a child's life. Preschool education falls in the middle of the early childhood period. This period allows children to learn about pre-primary education and understand the functioning of the school. Even in this period, it is essential that children learn through play. 
Characteristics of meaningful play
It should be enjoyable and fun to play for the child 
Game should involve spontaneous actions rather than instructions 
Driven by intrinsic motivation from the child, what they want to do 
The environment should be experiment safe where there is no risk to try new ideas

What is a Play-based Curriculum?
It is a misconception that learning is accustomed to seeing an informal setting and cannot be executed with play-based learning. This is not true as there are benefits of learning through play, but we will learn more about them later in this blog.
Playing is essential for early development in a child's life. It helps their brain to develop. It helps nourish a kid's language and communication skills to mature. 
Play-based learning is not about children achieving a specific outcome but about the process that they embark on along the way. It is an approach that many professionals in practice where they try to induce teachings during play. Teachers and educators carefully plan a playful activity or game that opens up learning opportunities. 
During such sessions, children are engaged in play and keen to learn. They are motivated to play and therefore engage with a positive note towards learning. Play-based learning can be an interactive method for young minds as they experiment with their natural desires to play.
A play-based curriculum can be as simple as knocking over blocks or stacking for your toddlers. It will help them discover basic maths and science concepts at an early stage. Children will learn shapes, gravity, calculation, and balance all at once with the advantage of learning through fun.
Activities of such kind allow children to learn more about communication and develop problem-solving and motor skills.
Did you know
10-12 hours of playing during daytime can help in the prevention of myopia (near-sightedness). This applied for the outdoor playtime for at least 90 minutes.
What are the Benefits of Learning Through Play?
Although there are a plethora of reasons that one should indulge their child in learning through play, but we have shortlisted a few that tops the list.
Encourage communication
When children engage in play, there comes an opportunity to develop speech and language skills and concentration.
Whether kids are playing with themselves or with a couple with friends, they tend to communicate. They talk to each other or if the game demands shouts! Nonetheless, this helps them be active and interact. They listen and be attentive in the game and develop better communication and listening skills.
During playtime, children will also have an opportunity to learn more words. The vocab exposure a child will get would help them incorporate into life. Try playing with games that involve a variety of words.
Promotes Relationship Building
Playing is even more fun when accompanied by parents or friends. The benefits of learning through play also includes the development of social relations. Children want to enjoy themselves and welcome peers to play along. Such activities can help them learn how relationships work.
We all have had our fights and make-up during such play hours. These lessons taught us to get alone, adjust, and make our voice heard in a big group.
Playing becomes an integral part of our young ones, which welcomes a significant number and quality of friendship in their life. Working on our social skills is as vital as any other development of our body. It helps us in the later future as well and plays a vital role in language development. Verbal communication is not only about words!
Enhance Critical Thinking
While playing, children start using their critical thinking to analyze information to make some sense out of it. They sift and apply it to the content of the situation. For instance, if your child points out that breakfast is to be eaten after a bath, this can be an example of critical thinking.
Children learn literacy and numeracy skills by playing with various toys or games that allow them to demonstrate what they are doing. Counting naptimes mats, pages in a book, playing with shapes, illustration in children's books are good examples of kids learning to play.
Brings Confidence
Confidence is another one of the most significant benefits of learning through play. Children learn confidence by learning our needs are critical to the adults around them. At the toddler stage, they gain confidence around parents or caregivers and uncover many things all by themselves.
The ability to try new things and take risks comes with confidence. Without confidence, children also won't be able to accept more challenges. Learning through play in preschool would still require parents to be around and to have trust in them, but kids would have confidence that there are some things that they need to be in charge of.
What skills can children learn from play?
Learning cause and effect
Enhance problem-solving skills
Learning to compromise in order to play with others, in harmony
Finding resolutions to conflicts
Development of motor and gross skill
Nurturing creativity
Discover positive self-esteem
Why is learning through play necessary?
A playful approach to learning is firmly supported by constructive learning theory. Children don't learn by telling facts; they learn more attentively and constructively by discovering themselves.
Many professionals believe that young children should make the most of what they do and grasp the learning element possible. Playing helps to gain essential knowledge and skills.
Many professionals agree to this new learning method through play as they see it has an enormous learning potential. Play is vital for the young minds to gain essential skills and knowledge. Children are enthusiastic about playing, which helps them give a better concentration to the activity.
Environments that promote learning by play opportunities and hands-on learning are the core of effective preschool programs. This does not leave us without an opportunity for challenges of play-based learning.
What are the challenges of play-based learning?
Kids might hurt themselves if not in a safe environment
Arguments over resources or game instructions among players
Resistance and restriction from adults may occur
Some children might not prefer to learn through play or may dislike specific types of play. (introverts may not be comfortable with group games).
Many advantages play offers to your kids. We have briefly discussed them below: 
Playing is Meaningful
While learning through play, kids make sense of the world around them. Their curiosity drives them to find meaning in an experience. They try to connect dots to the information that they already know. With play, they expand and express their understanding and knowledge.
Playing is Socially Interactive
Playing is fun, we all have experienced so, but it also allows children to communicate ideas. This all happens when they iterate with other kids to pay and pave their way to construct more in-depth understanding and more concrete relationships.
Playing is Ebullient
It is apparent that playing is joyful. Whether its children or adult playing, laughing and cheerfulness comes along the way. It sure has its challenges and frustration; for instance, we often get frustrated with times like "why can't I play this card?" but this feeling and the adrenaline rush make it more exciting and fun to play. It brings motivation, pleasure, laughter, and joyous moments in our lives.
Playing is iterative
Learning and playing go hand-in-hand as it includes practical skills. Playing cannot be static since it requires revision, discovery of new challenges, possible friendly competition, and other things that keep our children interactive in playing.
Playing is Actively Engaging
For any game or playful activity, engagement is a must. You can notice children playing and see how they are extensively involved in it. This often comes with the brushing of physical, verbal, and mental engagement of our young ones.
Final Words
A child's success as a learner depends entirely on a strong foundation built right from infancy. Play-based learning can foster critical, cognitive skills and dispositions, which are essential for the traditional academic learning and achievement.
Now you must be clear about the importance of play in education and your child's overall life. As a parent or counselor, we suggest that you be involved in learning through play for children and help them become to be a better human.