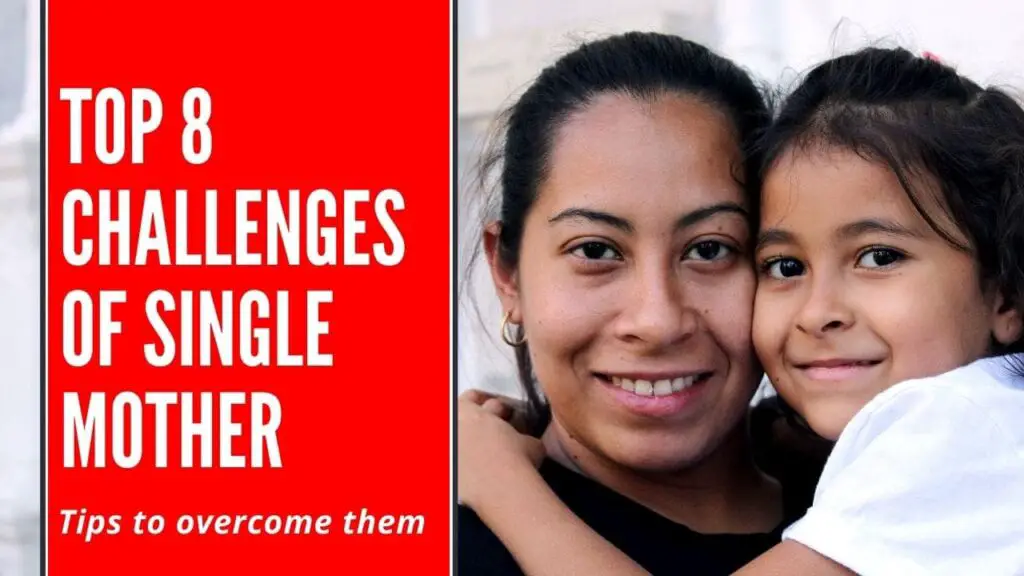 Parenting is a difficult chore. The difficulty doubles, if you have to raise a child alone. Being a single mother is one of the most challenging tasks for a woman. It has a unique set of emotional challenges and hardships that cannot be explained in words. Apart from the regular challenges of a mother, they have to grapple with many issues and face the stress of raising children alone.
Nobody likes to be a single parent but when fate hands you over the responsibility you have to accept it.  Understanding the challenges of single parenting will help you to prepare for the tough road ahead. You can be aware of the situation and take steps to overcome these challenges. Read on to know more about how to raise a child without a father. 
Challenges of a Single Mother
Having No One to Shoulder the Responsibility
Being a single parent is challenging because you are all alone. You have no one to turn to during a bad parenting moment. You are in charge of the kids 24/7 and there is no one to shoulder the responsibility along with you. This saps all the energy and results in frustration and anger.
Self-Doubt
It is one of the most common problems of single parents. There is no one to agree or disagree with your decisions and encourage you. When you have a partner, you can discuss ideas and come up with mutually agreeable solutions but being a single mother robs you of this consultation. There is no one to praise you for good parenting or help you identify the shortfalls. It is not easy to make decisions alone and it creates self-doubt most of the time.
Making Decisions Alone
Taking decisions is a difficult task in itself and when it comes to decisions about the children, it gets more daunting. When you have a companion, the decisions are mutual. There is someone who is equally invested in the wellbeing of the children apart from you. But when you are a single parent, the decision making is a solo process. Though you can take advice from family and friends, it does not help you much as they do not share the same responsibility as you.
Feeling Insecure About sharing the Custody of Children
Most mothers feel insecure about sharing the custody of their children. They feel lonely when the children leave to spend time with their father. After being a 24/7 parent for a while, sending the child away is a difficult task. It is one of the most dreaded challenges of a single mother. However, there are ways to overcome this loneliness, which we will discuss later.
Loneliness
Losing a partner is emotionally draining. It leaves a gap in your life that cannot be easily filled. No one can take the space of your partner in your life and in your heart. This results in a lot of emotional upheavals. When you add children to the scenario, it gets more disturbing. You have to deal with your own emotional turmoil while appearing strong before the children. Loneliness becomes your constant companion as there is no one to share your responsibilities, doubts, happiness, and sorrow.
Difficulty in Disciplining The Children
This is one of the most difficult challenges of a mother, who is a single parent. You have to work full time to take care of the financial needs of the family. On the other hand, you have to return home to the kids and look after their well being. Children are left to their own means during the day, which gives them ample freedom. Moreover, children sometimes resort to deviant behavior to get the attention of the mother and fulfill their demands. It is hard to discipline children when you are not around. 
Sense of Guilt
Most of the divorced women are forced down a guilt trip after the divorce, especially when there are children involved. The societal pressure and scrutiny add to this guilt. You are always in self-doubt about whether the decision was right or wrong for the interests of your child. This sense of guilt is always nagging at the back of your mind and may cause anxiety and depression.
Financial Troubles
In today's scenario money is a major issue. You have to take care of the school fees, tuition and other financial expenses of the child. Taking care of the ever-increasing expenses is an uphill task for many mothers. The problem of financial troubles increases manifold if you belong to the low or mid-income strata.
The most important step is to accept the situation and come to terms with it. Instead of worrying about how to raise a child without a father, you can take charge of the situation and devise strategies to overcome the hurdles in a smooth manner. The faster you accept the situation, the better it is for you and your children.
Now that you understand the challenges of a single mother, lets us discuss some helpful tips to overcome them.
Tips to Raise a child Without a Father
Show Love and Empathy to the Child
Just like you are suffering emotionally due to separation from your partner, the child also is undergoing the same emotional turmoil due to the loss of their father. You have to give the child time to heal and accept the situation. Shower the child with love and spend as much time as possible with them. You can just sit with them, take them for a walk or read to them. If the child is older, you can discuss the way ahead. 
Create a Routine
A standard routine helps you to keep a timely schedule. Creating a routine is very important when you are going out to work and the child has to stay alone at home. The child knows what to expect if there are proper structure and routine. Following a standard routine also helps you to prepare in advance and avoid the last-minute stress to go to the office or send the kids to school.
Find Reliable Childcare
This is very important if you are planning to live alone with the child. The child needs someone to take care of them when you are away. Search for trusted child care facilities or caregivers. When you employ babysitters, make sure to have a thorough history check and police verification.
If the child is older, you can also enroll them to attend extra classes after school hours. Choose a good institute, which offers after-school classes for children. Such programs help the child to learn about the world around them and develop new skills. 
Set Limits
Set rules and enforce them with consistency. As we discussed earlier, enforcing discipline is difficult for single mothers. However, setting limits and discussing them with children will help you to discipline them in an efficient manner. Reevaluate the limits as the child grows and is ready to take responsibility.
Keep Guilt at Bay
Do not blame yourself for everything. Being a single parent is not your fault. Make yourself strong mentally to face the scrutiny of society and let people know that it is not their business to interfere in your life. Though you have to show love towards the child, do not spoil them with material gifts to make up for the loss or separation from their father.
Take Time for Yourself
Single parenting is physically and emotionally draining. You have to take out some time to take care of yourself. Join a meditation or yoga class, or go to a fitness club. It is essential to take care of your health. Spend time with friends or family on a regular basis. This will help you to get recharged for the days ahead. Remember that taking some "me time" is important to ensure your physical and mental well-being. Going out with mom friends also helps you out to remove self-doubt. You can discuss the challenges of a mother from their perspective and get fresh ideas about positive parenting. 
Related Read: 13 Tips for Parents Worried About the Safety of Their Children Online
Ask For Help
It is OK to ask for help. You can join support groups for single mothers, work out a carpool schedule with other parents or seek social services. Apart from this, you can also ask for support from your parents and in-laws. They are experienced in raising children and moreover have an interest in the well-being of your children. If someone from the family is ready to help, it is always advisable to lean on them for extra support.
Stay Positive
Being a single parent is stressful, but a pinch of humor and positivity about life will help you handle the responsibility well. Tell yourself and your child that the situation is going to improve for the best and you have to keep moving forward. Meditation helps you to keep negative thoughts, anxiety and worry at bay. Instead of worrying about how to raise a child without a father, take steps to handle the situation in a mature way. Worry is not going to help you in any way, instead positive thinking and planning can help you overcome some of the toughest challenges.
Find a connected Father Figure
Children especially girls need a father figure in their life. And if their biological father is not around, give them another elder father figure to look up to. It may be their grandfather, uncle, or any other person close to you. But make sure the person you choose loves the child and sets the right example.
Parenting is a tough job and single parenting is even tougher. You have to face all the challenges of a single mother all alone plus you also have to take care of the family financially and emotionally. However, raising responsible kids as a single parent is not impossible. Positive thinking, support from your friends and family and some effort can help you in raising children without their father.