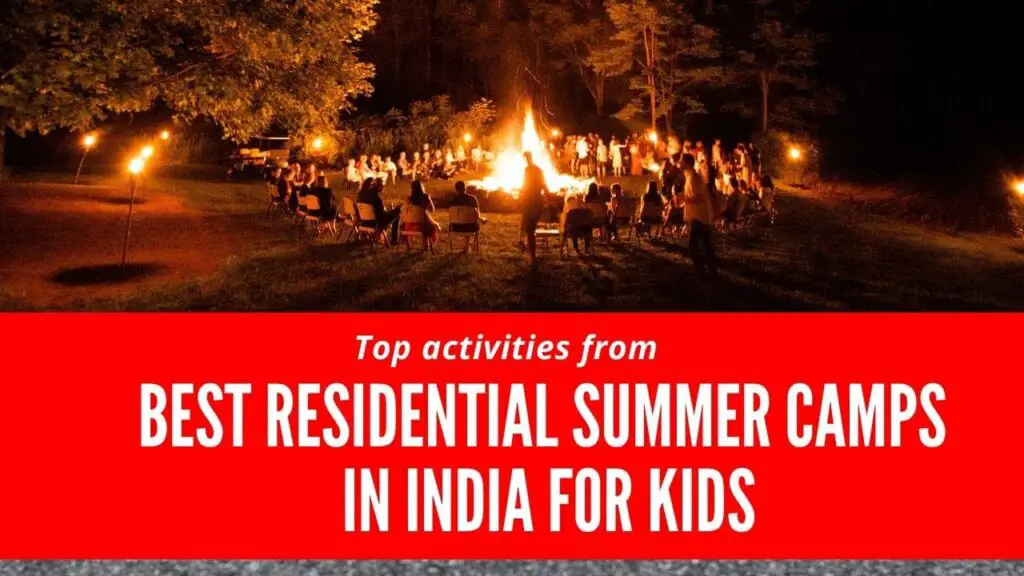 Children are known for their boundless energy and restlessness. As the summer holidays come knocking on the door, keeping them occupied becomes a major concern for most parents. Simultaneously, for all concerned like you and me, we want our kids to learn and grow constructively. The answer to our dilemma lies in getting our children enrolled in the best residential summer camps in India.  
Here, we would understand what exactly is a residential summer camp. Then, we would walk through a few of their activities that we would love our kids to indulge in. Stay hooked!
Understanding Residential Summer Camp for Kids
You and I might shy away from the scorching sun but kids don't mind sweating it out! They love to play and expend their boundless energy. Summer holidays make them restless as they need not go to school anymore.
Residential summer camps for kids are sleepaway camps where children stay from two days to a week or even 10 days depending on their age and experience. Here, they take part in many indoor and outdoor activities via which they not only learn new skills but also hone their existing skills like mind development, critical thinking skills, body development, math skills, language skills, sports skill, etc.
Because of the enormous benefits, it brings to the children, you must not deprive your child of such an experience.  Moreover, their fees are often reasonable. For added discounts, you can easily book your kids for residential summer camps in Bangalore, Delhi, Hyderabad, Indore, Chennai, Ooty, and Pune via us. We have become a pro in organizing summer camps for your kid in these areas.  
Top Activities from the Best Residential Summer Camps for Kids in India
We talked about summer camps bringing oodles of benefits to the kids. This is achieved through various activities that children cannot normally indulge in their homes or might not have sufficient time for them. For better understanding, we walk through some of the most interesting and fun-filled activities organized in a few of the leading residential summer camps in Bangalore, Delhi, Hyderabad, Indore, Chennai, Ooty, and Pune. Read on!
Camping Outside
This is perhaps the most common activity that is organized at almost all residential summer camp for kids. Campfires are arranged and children play various activities around it like singing, dancing, treasure hunt, scavenger hunt, barbeque cooking, etc. Often it is combined with staying in a tent for the ultimate experience.  
It is not only fun-filled but it also brings about the emotional and social development of your child. It's also a terrific way for them to unwind and destress after the hectic exam-filled schedule of the schools. Children from, five years onwards can be enrolled for such camps. For children below 8 years, a weekend residential camp would be ideal but older children can enjoy an extended stay.
Go Green Camps
If you are a nature lover like me and would like to teach your child to love and respect nature, then this would perhaps be an ideal summer camp choice for you. Here, children learn practical lessons about various types of plants. They are even engaged in planting trees and looking after them. Nature walks and various other activities surrounding plants are undertaken here.
Being near nature soothes and brings about emotional stability and happiness to any human being. Children are no different. Moreover, as they learn and respect nature, you can be confident of raising a responsible and happy child. Children from five years and above participate in such camps.
Adventure Activities
Is your child daring and adventurous type? Does your child thrive on an adrenaline rush and have boundless energy? If yes, try to enroll your child in a summer adventure camp.
These camps are usually arranged in the wilderness with mountains, plenty of greenery around, and nature at its beautiful and wild form. Uttarakhand, Tamil Nadu, Ooty, Himachal Pradesh, Delhi, etc. are some of the popular destinations where such residential summer adventure camps in India are organized.
Few adventure activities that your children are trained in here include rock climbing, mountain biking, mountain climbing, backpacking, commando bridge, etc. Children from and above 6 years of age can be sent to such camps.
These activities not only bring about the physical and emotional development of the child but also make them fearless and strong. These activities bring about a tremendous boost in the self-confidence and self-esteem of your child. You would never need to worry whether your child is capable enough to tackle the challenges of life!
Water and Beach Activities
If water sports and beach fun activities are something that both you and your child loves, then water and beach camps would be the ideal summer adventure camps that you can choose for your child.
The child can love the experience of beaches and enjoy several beach activities like sandcastle building, beach sports like volleyball, group activities on beaches including book reading, and group play. There is also no death of water sport activities like swimming, snorkeling, water skiing, water motorcycle riding, surfing, boating, and so on.
The benefits of it need not be touted as they genuinely bring about the all-round development of the child. While you can send the child from 6- years onwards to such camps, you must exercise caution. Even though children are under constant supervision and all risk factors are eliminated, we believe children from seven to eight years onwards are ideal candidates for it.
Training in Fine Arts and Performing
Physical activities are not the only highpoints of residential camps for kids. Many camps are organized with the sole aim to train kids in fine arts and performing. Children are trained in various vocational activities like dancing, playing guitar, painting, keyboard, and so on.
It helps the children enhance both their mind and body while learning in an enjoyable and meaningful manner. Such activities are excellent in bringing forth and developing your child's hidden talents and showcase their true personality and passion.
Experiential Learning
Every year, we help kids enroll for a wide variety of summer adventure camps where experiential learning is the norm. Your child can learn activities like photography, archery, shooting, lakeside adventures like fishing, swimming, snorkeling, etc., and hordes of such activities by experts in each field.
These are not only constructive hobbies that your child develops and hones but they can also develop into a full-time career for your child if they show exceptional talent in any particular activity. If your child is five years and above, you can easily enroll your child for any of these specialized but best residential summer camps in India.  
We have tie-ups with the best residential camps where your child learns from the best experts in the field.
Wildlife Experience
Does wildlife attract you and your child? Do you know that there are several safari summer adventure camps organized for kids every year in India? Children get to live in tents amidst nature and get to see the wild animals in their true and natural habitat. They are also passed on several useful and other vital information about them.
These camps often have plenty of other activities like cooking, farming, recycling and upcycling of things, etc. Here children learn about conservation and appreciating and preserving our flora and fauna. What else could you want for your child?
Computer Courses Camp
The digital world has become an integral part of our lives. So how could you not expose your child to this mesmerizing world?
Various esteemed computer colleges throughout the country organize such camps. Your child can easily learn multimedia, animation, coding, and various other computer courses.
Often the entry age for such residential summer camps for kids is ten years. The idea is to give maximum exposure to the child to help them develop higher technological aspirations. If your child gets enrolled for such camps, you can definitely dream of your child growing up into a techy geek!
Arts and Crafts
Almost every child loves art and craft! Activities like calligraphy, origami, clay modeling, pottery, etc. hold a fascination for every kid. It is no less an adventure for them. Various summer adventure camps are organized just to satiate these needs of your child.
Learning many other things like story-telling, elocution, drama, singing, etc.; your child experiences oodles of fun. An all-around development including better communication skill develops in your child. It is a must experience camp for every child. You can approach us today to arrange one for your child who is five years and above!
Sports
As a kid, we all remember playing a wide variety of sports and running free and frolic in the parks. Unfortunately, parks and open spaces have become a rare commodity, especially in urban areas. Moreover, children are getting more hooked to computers, TVs, and smartphones. They have become highly prone to becoming digital addicts.
You can get the child back on the right track by enrolling them in a sports residential summer camp for your child. There are general camps where your child is exposed to several sports like cricket, basketball, volleyball, gymnastics, chess, etc. This helps them to discover their talent and skills.  
Likewise, there are specialized camps where your kid can get training on a specific sport like cricket, football, etc. Who knows if there is a Sachin Tendulkar or a Viswanathan Anand in the making? Call us to help your child enroll for such residential summer camps in Bangalore, Hyderabad, Delhi, Indore, Chennai, Ooty, and Pune.
Yoga and spiritual activities
In today's stressful life, yoga is emerging as the best form of stress buster and to fill us with positive energy and zest for life. Children too benefit enormously from it. Children get trained in yoga and other spiritual activities along with various other entertaining activities.
Online summer camps and their activities 
Sometimes, due to various factors or special circumstances like the Covid pandemic, it might not be possible for you to send your child to a residential camp. Does that mean that your child will be deprived of summer adventure camps? It need not be the case.
Thankfully, there are several online camps organized today to keep your child engaged and grow in the manner that they deserve. Many of the indoor activities like cooking, yoga, vocational skills and art, fireless cooking, and so on are taught here. Even talk sessions with psychiatrists are arranged so that the children do not get frustrated and disturbed while remaining amidst the four walls of their homes.
These are just a few examples of some of the activities that are conducted in the best residential summer camps in India. The list of activities is almost endless. Reach out to us with any of you and your child's interest and we would help you get your kid enrolled in the right summer adventure camp.
Few FAQs on The Best Residential Summer Camps in India
By now, you must be convinced about the benefit of enrolling your kid in a residential summer camp. But there might be queries running through your mind. Here, we try to answer a few of those for your convenience.
Are summer camps necessary for kids?
We cannot say it is necessary for kids. However, they help bring about the all-round development of your child, teach them life skills, and even bring forth their hidden talent and skills. Because of their enormous benefits, they are strongly recommended for every child.
What are the benefits of a summer camp?
Summer camps offer many benefits to your child like:
Children grow in their self-confidence and self-esteem.
They make new friends and develop the right social skills.
They learn new skills and develop new interests.
They learn to become independent individuals.
They become busy and grow constructively.
They learn to appreciate nature and respect and take care of them.
Their physical health and development improve.
Children can overcome many problems like stammering, introverts, etc. when sent to such camps.
These are just a few of the benefits worth mentioning.
Should I insist my child go to the residential summer camp for kids? 
We strongly recommend against it. Your child must have a say in the decision-making process as he/she would be staying away from you. Most children love the idea of going to a summer camp but if your child is unwilling, it's best to have a conversation and convince them otherwise.
What is the duration of the summer camp?
The duration of the summer camp can vary from an overnight camp to a fortnight to even a month. It all depends on the age of your child and the activities that are planned in the residential summer camp.
What are the fees of the residential summer camp?
The fees of the residential camp have a wide variation. Depending on the activities and the organizers, you can easily find a summer camp that suits your pocket.
Wrapping up
We hope that you have all the information now regarding sending your child to a residential summer camp in India. In case you have any other queries or want to know more, do reach out to us. We will help to get your kid enrolled in the most appropriate residential summer camps for kids.